Communications Case Study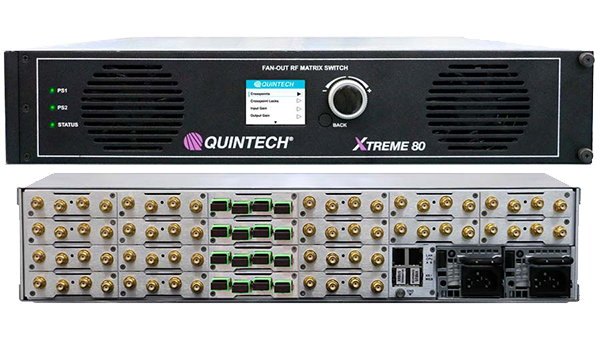 Application:

Customer:

End Product:

Solution Used:

RF Signal Management

Quintech Electronics & Communications, Inc®

XTREME Matrix Switches
The Customer
Founded in 1989, Quintech Electronics & Communications®, Inc. is a state-of-the-art designer and manufacturer of RF signal management communications equipment. Quintech products are the keystones to the automation of today's advanced telecommunication network infrastructures and test laboratories. Quintech produces RF matrix switches, redundancy switches, relay switches, splitters, combiners, amplifiers and DC powering products and equipment. Qunitech's worldwide customers include satellite, government, wireless telecommunications, broadcast and CATV service providers.
Customer's Product
The XTREME 80 next generation L-band matrix switch features 80 ports in a compact 2 RU chassis. The XTREME 80 is a full fan-out (distributive), non-blocking switch where an input can be routed to any or all outputs. The XTREME 80 features an industry exclusive flexible matrix architecture (patented) that supports both symmetric and asymmetric configurations of 80 combined inputs and outputs in a single chassis. Asymmetric configurations such as 16×64, 24×40, and more can be implemented as well as the standard 32×32 configuration. Optional 13/18V, 22 kHz tone LNB power is available on all input ports. The XTREME 80 is designed for maximum reliability with redundant power and control cards.
CompuLab Product Used
The XTREME product line (XTREME 256, XTREME 80 and XTREME 32) uses the CompuLab CL-SOM-iMX7 ARM System-on-Module.