CompuLab's IOT-GATE-RPI4 is a Raspberry Pi 4 based IoT Gateway optimized for industrial applications
Yokneam, Israel 26-October-2021 – CompuLab introduces IOT-GATE-RPI4 – a low cost, industrial IoT gateway, offering exceptional connectivity and versatility in a miniature, rugged housing. Built around the Raspberry Pi 4 Compute Module, IOT-GATE-RPI4 has been designed for full compatibility with Raspberry Pi software and runs standard Raspberry Pi OS images.
Targeting industrial control and monitoring applications, IOT-GATE-RPI4 delivers a wide range of interfaces required in typical IoT systems: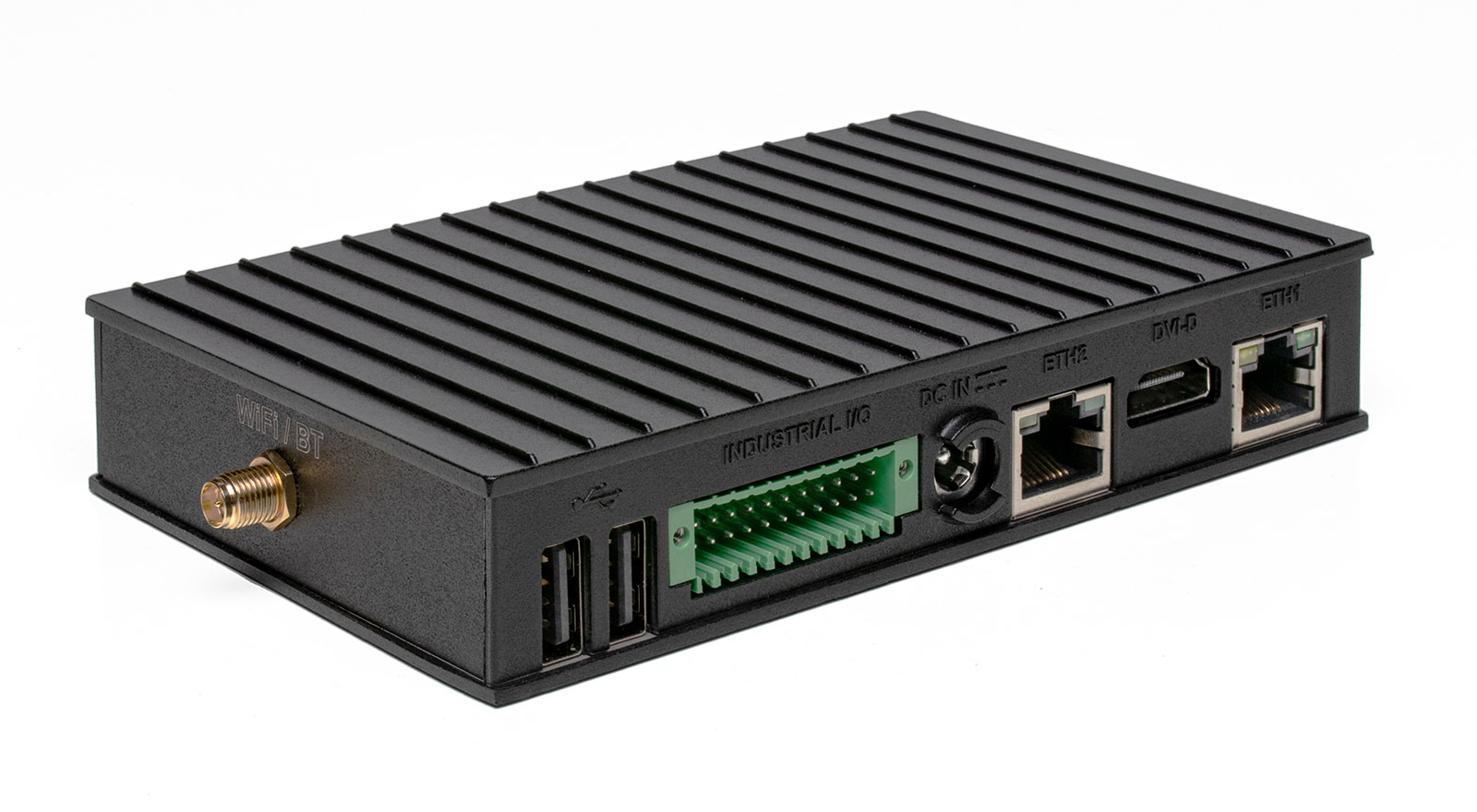 LTE modem, WiFi 802.11ac, Bluetooth 5.0
Dual Ethernet ports and PoE support
4x RS485 | RS232 | CAN-FD ports
USB 3.0 and digital I/O
Designed for Industrial Deployment
IOT-GATE-RPI4 has been specifically designed to address the requirements of IoT integration in industrial environments: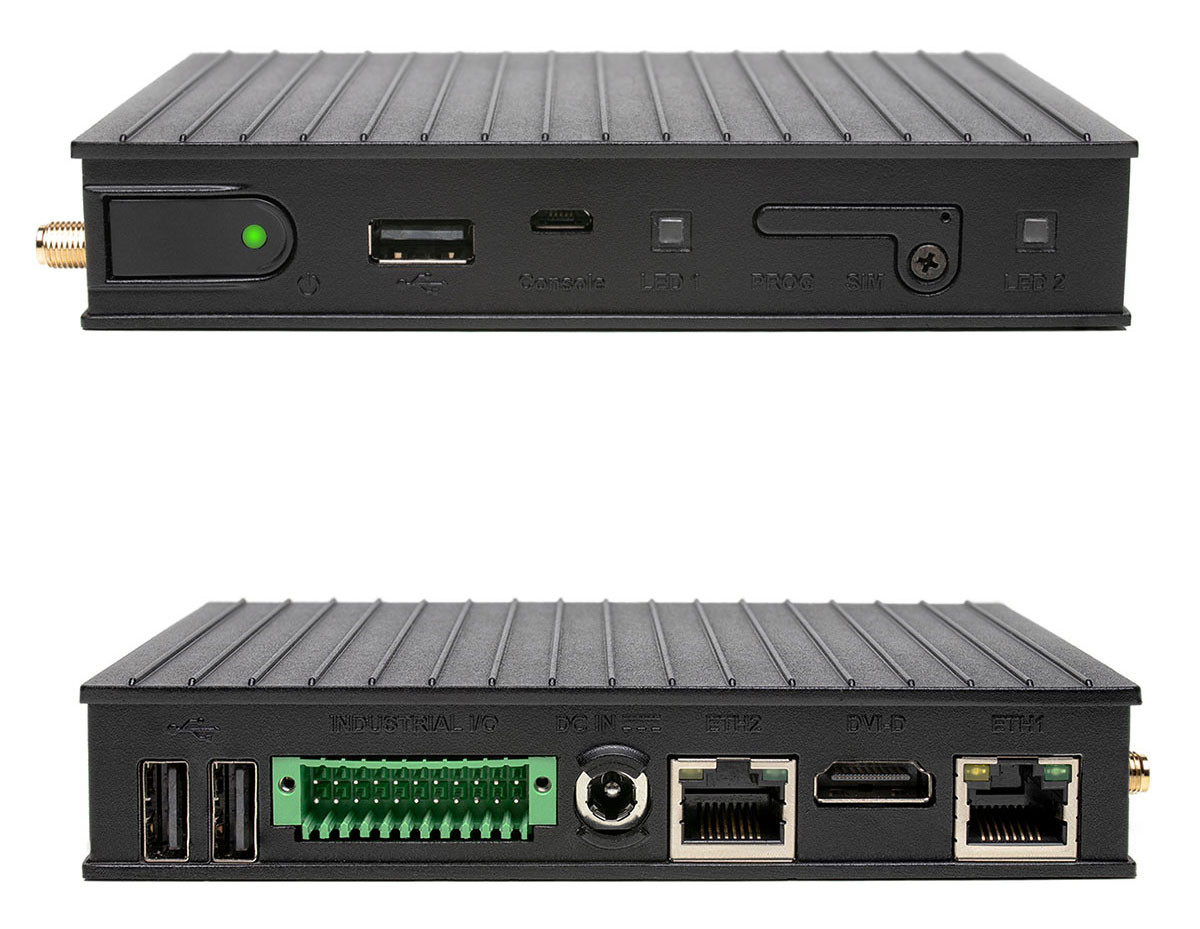 Operation in wide temperature range of -40C to 80C
Input voltage range of 8V to 36V and PoE client
Hardware watchdog and TPM 2.0
Isolated industrial interfaces (CAN, RS485, digital I/O)
Shock, vibration, dust and humidity resistance
DIN-rail and wall / VESA mounting
Modular and Customizable
Each IoT project presents different connectivity requirements that cannot be addressed with a single hardware configuration. In addition to configurable RAM, storage and wireless options, CompuLab's modular I/O design enables IOT-GATE-RPI4 to provide any combination of up-to 4x CAN-FD / RS485 / RS232 ports or digital I/O.
IOT-GATE- RPI4 functionality can be extended even further with custom, application specific I/O expansion boards. For projects that do not require housing, IOT-GATE-RPI4 will also be offered without the enclosure – as SBC-IOT-RPI4.
Fully compatible with Raspberry Pi software
IOT-GATE-RPI4 runs standard Raspberry Pi OS images and is fully compatible with all Raspberry Pi software.
In addition, IOT-GATE-RPI4 supports popular IoT frameworks such as Microsoft Azure IoT and AWS Greengrass.
Specifications
| | |
| --- | --- |
| CPU | Broadcom BCM2711, quad-core ARM Cortex-A72, 1.5GHz |
| RAM | Up to 8GB LPDDR4 |
| Storage | Up to 128GB, eMMC flash, soldered on-board |
| | 64GB – 256GB NVME flash, optional module |
| Network | 2x Ethernet ports |
| | WiFi 802.11ac |
| | Bluetooth 5.0 BLE |
| | LTE cellular modem |
| USB | 3x USB2.0 ports, type-A connectors |
| | 2x USB3.0 ports, type-A connectors (optional add-on) |
| Industrial I/O | Up-to 4x RS485 (half-duplex) | RS232 | CAN-FD ports |
| Digital I/O | Up-to 2x I/O modules each supporting 4x digital outputs + 4x digital inputs |
| Expansion | Expansion connector for custom add-on boards – PCIe, USB, SPI, GPIOs |
| RTC | Real time clock with back-up battery |
| Watchdog | Hardware watchdog |
| Input voltage | Unregulated 8V to 36V DC input |
| Dimensions | 132 x 84 x 25 mm |
| Enclosure | Aluminum housing |
| Cooling | Passive cooling, fanless design |
| Temp. range | -40C to 80C |
Availability and Pricing
IOT-GATE-RPI4 is available now through CompuLab's worldwide distribution channel and through direct sales (www.compulab.com).
IOT-GATE-RPI4 is offered at a variety of configurations starting from $134 for volume orders.
Detailed ordering and pricing information is available at the IOT-GATE-RPI4 product page.
About CompuLab
CompuLab is a leading designer and manufacturer of embedded computing products since 1992.
CompuLab products are embedded in digital signage, telecommunication systems, automotive devices, gaming systems, medical devices, aerospace and marine systems, and countless other applications.
CompuLab headquarters are located in Yokneam, Israel with offices in St. Petersburg, FL.
For additional details please contact:
Igor Vaisbein
igor.vaisbein@compulab.co.il
+972-4-8290100
* Raspberry Pi is a trademark of the Raspberry Pi Foundation.